Christmas is just around the corner and New Year's Eve is following closely behind…
For short-term rental business owners like yourself, this is an especially festive season. You can charge premium holiday pricing and have your rentals fully booked weeks in advance. Your guests get to enjoy their special moments in your cozy stays, and you get to enjoy the perks of the most in-demand season.
A true win-win. But it comes with a potential downside . . . on your end.
The holiday season is the time when everyone forgets about the daily monotony, spends time with their loved ones, visits exciting events, and, most importantly, parties!
Celebrating is a major part of the holiday season, but as a host, you know that it comes with certain challenges if it happens at your rental property.
Hosts love families and couples who want to have a cozy, intimate stay out-of-home. This also entails young (and sometimes not so young) party-lovers… These can be your favorite guests or a potential nightmare!
Of course, you don't want to be that unpleasant host that follows every step of his guests. But you also don't want to see your rental damaged after a wild party.
What to do?
How can you keep your place protected from unwanted, destructive, neighbor-disturbing parties? Read on. You will learn what you can do to protect your rental property (and neighbor holiday experience) without spying on your guests and invading their personal time.
Usually, you find out about the damages… when they're already done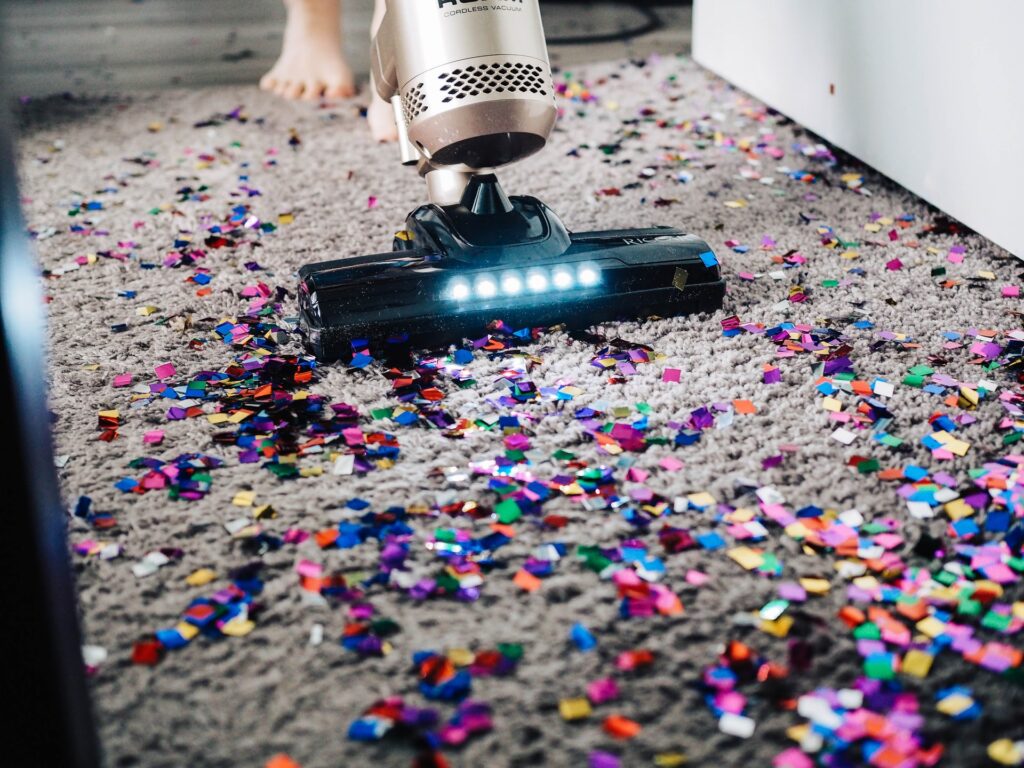 That's just the nature of running a short-term rental business. No matter how diligent you are and how well established your rules are, some guests think of a short-term rental as an opportunity to act out since they have no supervision, and as a result, they behave more carelessly than they would in their own home, or family's and friends' homes.
Here is what other short-term rental owners have tried to do to prevent guests from organizing parties in their rental properties (but you should NOT attempt any of these as they are invasive at best, or downright ILLEGAL at worst).
#1: Installing video cameras (usually, hidden):
There are almost no places where this is legal. Short-term rental and Airbnb guests, however, still report finding hidden cameras in their places of stay. Afterwards, the host is reported to the platform where the guests booked their stay. Their account gets blocked, and from there, appropriate legal instances follow up the situation. In short, you can lose your most in-demand sources of bookings, pay hefty fines and permanently leave a mark on your reputation.
#2: Installing sound recorders:
It might seem like a safer bet. You're just recording the sound, after all. Right? In reality, this is just as invasive and commonly illegal. Without guest approval, you can't legally record them. Can you imagine asking your guests if they're okay with being recorded? Similar to video recording, as a consequence you may be blocked from online booking platforms, face legal consequences, and have a nasty invasive mark imprinted on your reputation. A no-go.
What to do then? How should you protect your rental and your neighbors from the loud party-ers? With a Party Prevention Device of sorts, of course!
By using a real-time noise control device for short term rentals and Airbnb's, you can take the initial step towards protecting your property. The sound sensors only monitor the sound level and they also alert you and the guests when noise levels are heightened above the permitted level. It does not record, therefore it is perfectly legal and doesn't cause any concern for guests.
Airbnb has recognized the issue and now recommends these devices as a solution
We have all heard stories about, and potentially, some of you even experienced, guests who rent properties to organize parties. The "No Parties Allowed" rule is clear enough for most people to follow, but the few who don't have forced the Airbnb platform to actively promote sound sensors in hopes of informing hosts about the activities in their properties.
"We want to help you protect your space, maintain the privacy of your guests, and preserve your relationship with neighbors," said Airbnb on its website. "This means helping you detect issues in real time."
These devices are super simple. They can be easily fitted to ceilings or wall-mounted. They're essentially plug & play and come with a monthly subscription, which allows you to monitor the activity in your short-term rental from your smartphone or laptop.
Airbnb reportedly said it does not "endorse" the devices, but strong customer endorsements for the product can be found, one lister explaining that "finding noise monitoring was a miracle for us—we now have peace of mind that our neighbors have a peaceful neighborhood. Thank you for introducing us to such a simple system!"
Some people have raised privacy concerns, but they were quickly taken back by learning the fact that these devices do not record sounds or videos. They only monitor noisy guests and alert property owners when the levels are consistently too high. (Shutting the doors loudly once won't classify as loud partying).
Roomonitor is among the 3 best solutions in the market, and here is why
Roomonitor Noise Alarm allows you to be aware of the noise levels in your short-term rental all day, every day, thus avoiding any problems with neighbors or other tenants. Real-time noise monitoring sends notifications by SMS and by way of phone call, allowing you to register 3 different numbers. Now, you can take action and cut the partying before the neighbors do!
The sensors work autonomously, and you have 24//7 customer service available whenever you need.
Access a powerful dashboard from your smartphone or laptop, receive daily reports, and customize the system to fit your necessities.
If you would like to learn more about Roomonitor Noise Alarm's features, please click here.
Keep your space party-free starting from today
Avoid unpleasant surprises in the holiday season – now you know HOW! Forget about spying on your guests with ethically shady, or downright illegal, methods. Keep your property safe and your neighbors peace uninterrupted with smart party prevention devices. If you would like to receive assistance in choosing the best-suited noise monitoring device for your property, you're welcome to reach out to our noise control experts. Contact us today!