We live in a world where thanks to IoT (Internet of things) technology we are able to control our apartment from the distance at any time (24/7), respecting the privacy of the guests.
The surveillance policies of some accommodation search sites, such as Airbnb, requires that it must be communicated the presence of any surveillance device in the Property nor Home Rules.
Here's the full text of Airbnb's rules about security cameras and other recording devices in listings: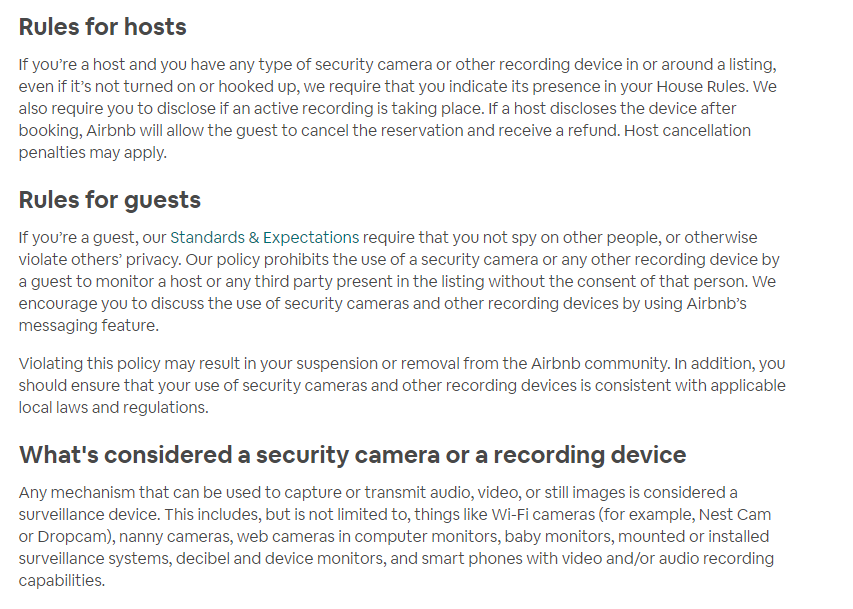 Is NoiseAlarm a surveillance device?
First of all, we must say that NoiseAlarm devices only measure the sound pressure, does not record any audio, video nor conversations, and offers a 100% of privacy to the guests.
NoiseAlarm is an investment and a benefit for property owners by keeping up the good coexistence with neighbors.
Therefore, it is a surveillance device that measures the sound levels and allows the monitoring of the sound at the apartment.
That is why we recommend you to include in the publication of your apartments or on your website, a text that refers to Roomonitor devices, to avoid penalties and also as an Airbnb requirement.
The following are some good examples:
English:
"This property uses an IOT device that helps us to control the noise in the apartment avoiding conflicts with neighbors or other tenants. Roomonitor's Noise Alarm is 100% secure for guest-privacy because there are no audio recordings or conversations, it measures the volume level of noise and sends an alert when exceeding the maximum limit set. This system collaborates to make tourism more sustainable, for more information visit www.roomonitor.com"
Spanish:
"Esta propiedad utiliza un dispositivo IOT que ayuda a controlar el ruido, evitando conflictos con vecinos u otros inquilinos. Noise Alarm de Roomonitor es un dispositivo 100% seguro a la privacidad de los huéspedes porque no graba audio ni conversaciones, mide el nivel de volumen de ruido en la propiedad y envía una alerta cuando se haya excedido el límite máximo establecido. Este sistema colabora para hacer el turismo más sostenible, para más información visita www.roomonitor.com"
To learn more about NoiseAlarm or other products, contact us! Click here.