As you know, your short-term rental property listing description is ultimately your first impression. While you may have a captivatingly alluring photo showcasing your property, the actual description is the most important aspect of appealing to potential guests.
Your prospective tenants should have a better understanding of why your property is the right fit for them after reading your description.
By paying attention to their needs and including small, intricate details, you too can improve your listing and enjoy an increase in your bookings. Here are 8 ways to write amazing short-term rental property listing descriptions.
1 · Identify Your Target Audience 
Similarly to marketing for a bed and breakfast, be sure that your description is fitting for your targeted audience. The keywords used to appeal to an elderly, hobby-loving couple with their sights set on relaxation will differ from those used for spring-breakers looking for a fun-filled week. For example:
Businessmen/women: Will enjoy details about technology included, such as WiFi and understanding where your property is in relation to your city's business district
Couples: Include details that inspire romance, such as the view or bedroom setting
Families: Think of including nearby activities children
You may even opt to include some of these details in your title.
2 · Be Yourself 
Most property owners have the idea that writing in a professional tone of voice consists of a scholarly-sounding description loaded with an excess of big words. This is not necessarily true. Keep the following in mind:
Your description is your "time to shine." As one of the first opportunities to get your point across, make your personality one of the reasons potential guests tap the "book now" button. 
Even Airbnb suggests that property managers should create "warm, inviting descriptions." 
Don't overdo it. Pretend as though you are talking to a close friend. What would you say to reassuringly describe everything they need to know about your property?
3 · Grab the Attention of Your Potential Guest Immediately
The key to grabbing your potential guest's attention is to make your opening meaningful to each specific individual. Keep the following tips in mind:
Reel your prospective clients in quickly with a jaw-dropping headline. Make potential guests want to keep reading your description.
Avoid falling into the trend of producing titles or descriptions that are written in all capital letters. Research proves it will make your description harder to read and understand.
Try to use less than 50 characters while still fully describing the property. Do not repeat obvious details, such as the city where the property is located.
Highlight the aspects that make your property stand out. For example:

Instead of saying: 3 bedroom condo in Los Angeles,
Say: Tranquil, spacious high-rise with city view
4 · Include Even the Smallest of Details
Your guests wish to know exactly how the property will appear to be when they arrive. Fill them in on all details so they will know exactly what they are getting. Consider the following:
Bedrooms: Go into detail about bed size and layout. Help your guest picture their stay.
Bathrooms: Don't forget to include how many showers, tubs, and toilets are available.
Extras: Include any other selling points. Do you have a jacuzzi tub? Are your ceilings high and fancy? State of the art entertainment system available? Make it known.
These could be the reasons for your guest deciding on your property over another. Be specific, but remember to keep it skim-friendly.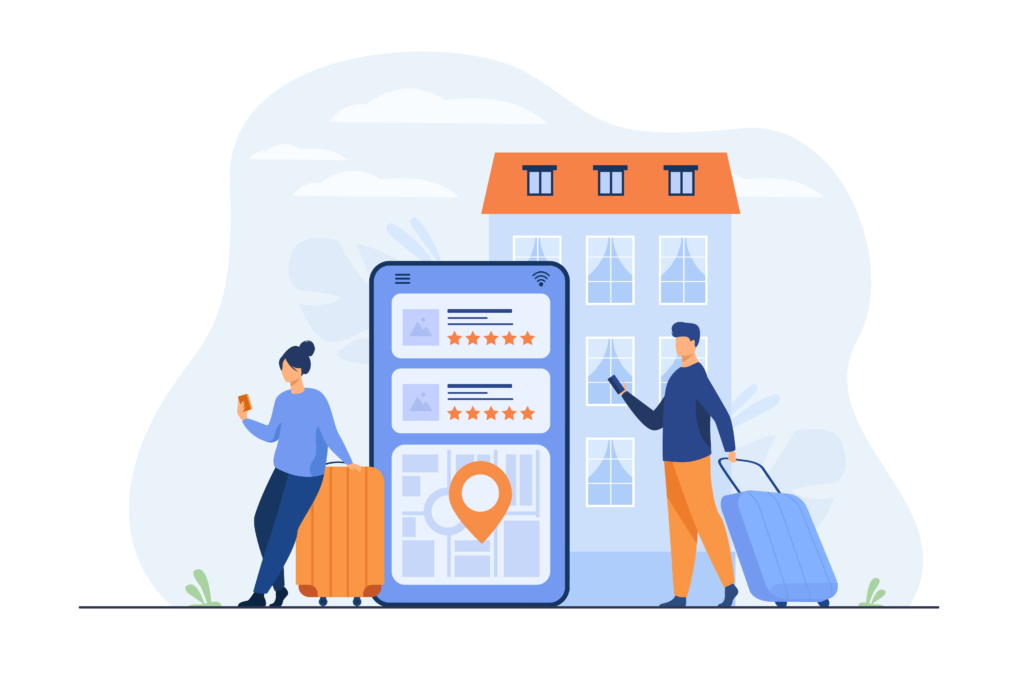 5 · Put Yourself in Your Guest's Shoes
Many people often travel without an itinerary set in stone. They are unsure of where to eat, what is happening closeby in entertainment, and even where to find nearby essentials. This is where you come in.
Answer your future guest's questions before they even have to ask them based on past guest inquiries. Include details on:
Nearby restaurants
Public transportation
Closeby grocery stores
Your pet policy
Number of guests allowed
Important rules
The more concerns you address upfront, the more likely the potential guest will choose your property.
6 · Keep Your Listing Updated
A property management company by the name of Guesty conducted a survey in 2018 that concluded that 58% of property managers never update their listing descriptions, a costly error.
By keeping your description updated, future guests can identify why they should choose your rental no matter the time of year. Use seasonality to your advantage.
Figure out which events are the most popular and showcase your convenient location. For example, a property manager located near International Speedway in Daytona Beach, FL would be foolish not to capitalize during Nascar's Daytona 500.
From concerts to sporting events, use current happenings to make your property stand out. 
7 · Look Out for Phrases to Avoid
Since the goal is to set your property apart for the competition, experts say you should avoid using common words such as:
Must-See
Bargain
Nice
TLC
Boasts or Boasting
Gorgeous
Luxury
Charming
Try not to overdo your description or add too much fluff.
 8 · Proofread
Misspelled words and run-on sentences are not great methods for placing your property at the forefront of potential choices for your client.
Be sure to check your listing for grammatical errors. Up the ante by using a thesaurus to replace commonly used words with more appealing synonyms.
Also, be sure that your description is readable and actually makes sense. You want to paint a clear picture of your property without being overly dramatic.
If absolutely necessary, you could opt to hire a copywriter or find someone to read over your finished product.
Summary
Keep the following steps in mind for writing an impressive short-term rental property description:
Write specifically for your target audience.
Be genuine with your tone of voice.
Use an intriguing title that grabs attention.
Include all details and specifics without being too wordy.
Address potential guest concerns.
Always keep your listing updated.
Avoid overly-used words such as "gorgeous" or "charming."
Use spell check and a thesaurus to proofread.
Now, go put that pen to good use and increase your bookings with a stellar property description!