The definitive solution to noise monitoring in tourist apartments and hotels.
Noise Alarm is a device that allows you to be aware of the noise levels in your short term rentals all day, every day, thus avoiding any problems with neighbors or other tenants.
We take care of everything
Your own night staff from 11pm to 7am.
With this service you can sleep peacefully knowing that you have people capable of resolving any incidents while you rest.
We attend all your phone calls
A 100% tailored service built for attend all your phone calls from an exclusive helpdesk.
A professional team will take care of all your income calls and attend the guests following a protocol designed by and for you. Roomcall allows you to save time and to optimize your valuable resources.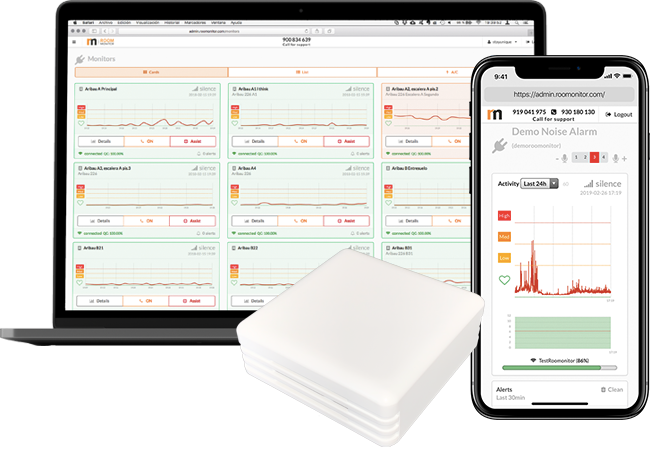 With Roomonitor,
sleep and let sleep.
"Roomonitor es fundamental para aquellos que queremos que los apartamentos turísticos tengan un impacto positivo en la ciudad. Es una apuesta por un turismo sostenible de verdad."
Enrique Alcántara
- StayUnique CEO
"En Roomonitor hemos encontrado un socio perfecto para aportar a nuestros propietarios un servicio acorde al nivel de sus apartamentos. Un elemento fundamental para nosotros en nuestra actividad."
Ignacio García
- YouStylish CEO
"Llevamos con Roomintor casi desde sus inicios y los beneficios han sido muchos, clientes cada vez más concienciados que para disfrutar no es necesario molestar, vecinos agradecidos por las medidas tomadas en pro de una buena convivencia y la tranquilidad de los gestores en saberse en buenas manos."
Gisela Álvarez
- SATA Directora Compras
"Roomonitor y su equipo saben de qué hablan cuando se trata de apartamentos turísticos y sus problemáticas. Su sistema Noisealarm nos permite gestionar de forma profesional y rápida las incidencias de ruidos en los pisos, da tranquilidad a nuestros clientes y vecinos y favorece nuestra imagen como empresa responsable y comprometida con la buena convivencia en la cuidad. Además, su amable personal nos ha dispensado siempre un trato tan profesional como exquisito."
Bonaventura Durall Aulet
- Durlet Director
"Gracias a Roomonitor hemos mejorado la convivencia con nuestros vecinos. Nunca más hemos tenido quejas por ruido, ahora tenemos viajeros y vecinos felices. Roomonitor nos permite hacer un uso responsable de nuestros equipos de climatización​ reduciendo el consumo contribuyendo así con la mejora del medio ambiente."
Marcos Bosch
- Class Bedroom Comercial Manager
"The monitors has help us to prevent issues with guests that sometimes forget there are rules in the apartments and that these places should be respected the same way as their own home: Extremely loud talking, Loud Music, etc…"
Esteban Gast
- Citystay Aparts UK Managing Director
Don't be shy!
Ask us what you want, we are here to solve your questions
Hospitality is one of the fastest-growing industries in the world. And short term rentals became an increasingly important part of it. With changing travel patterns appeared platforms that not only…
According to official figures (data from 2017), it is estimated that in Spain there are around 90,000 illegally occupied dwellings; 23% of them are located in Barcelona. One of the…