A solução definitiva para monitorizar o ruído em alojamento local.
O Noise Alarm é um dispositivo que lhe permite saber os níveis de ruído no seu alojamento local durante todo o dia, todos os dias, evitando assim problemas com os vizinhos ou outros hóspedes.
Temos o nosso próprio staff noturno das 23h às 7h.
A nossa equipa de assistência noturna vai ao local, soluciona qualquer situação de alarme por excesso de ruido e resolve qualquer incidente.
Um serviço personalizado para a gestão de todas as suas chamadas.
A nossa equipa especializada atenderá qualquer chamada seguindo um protocolo delineado exclusivamente por e para si.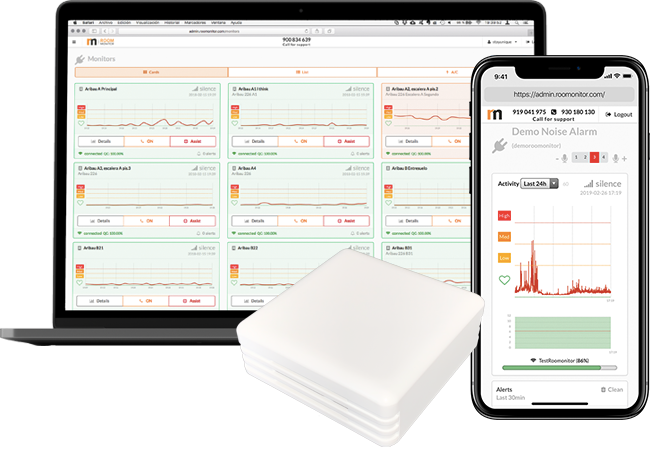 Com Roomonitor,
dorme e deixa dormir.
"Roomonitor is essential for those of us who want Vacation Rentals to have a positive impact on the city. It is a commitment to truly sustainable tourism."
Enrique Alcántara
- CEO Stay U-nique
"In Roomonitor we've found a perfect partner to provide our owners with a service according to the level of their apartments. A fundamental element for us in our activity."
Ignacio García
- CEO Youstylish
"We have been with Roomintor almost since its inception and the benefits have been many, more and more aware customers that don't need to bother to enjoy, neighbours grateful for the measures taken for a good coexistence and the tranquility of managers to know they're in good hands."
Gisela Álvarez
- Purchase Manager SATA
"Roomonitor and his team know what they're talking about when it comes to short-term rentals and their problems. Its Noisealarm system allows us to manage in a professional and fast way the incidents of noise in the apartments, gives tranquility to our clients and neighbours and favors our image as a responsible company and committed to the good coexistence in the city. In addition, his friendly staff has always given us such professional and exquisite treatment."
Bonaventura Durall Aulet
- Director Durlet
"Thanks to Roomonitor we have improved our coexistence with our neighbours. We've never had complaints about noise again, now we have happy travelers and neighbours. Roomonitor allows us to make responsible use of our air conditioning equipment reducing consumption thus contributing to the improvement of the environment."
Marcos Bosch
- Commercial Manager Classbedroom
"Thanks to the Roomonitor Noise Alarm´s, we´ve managed to greatly improve the coexistence between our tenants and apartment residents. With its great team of professionals, Roomonitor guarantees a good functioning of the devices and agile resolution of technical failures."
Pol Castellà
- COO Renttop Apartments
"The monitors has help us to prevent issues with guests that sometimes forget there are rules in the apartments and that these places should be respected the same way as their own home: Extremely loud talking, Loud Music, etc…"
Esteban Gast
- Citystay Aparts UK Managing Director
Não sejas tímido!
Pergunte-nos o que quiser, estamos aqui para a sua tranquilidade
The pandemic has caught the industry off guard. Everything has happened so quickly, there have been many huge changes in the industry, and there will be many more to come.…
We all know that bad guests are bad news for anyone with STR's. However, sometimes the impact they have can be more or less visible and / or complex. Either…