The definitive solution to noise monitoring in vacation and short-term apartments.
Noise Alarm is a device that allows you to be aware of the noise levels in your short term rentals all day, every day, thus avoiding any problems with neighbors or other tenants.
We take care of everything
Your own night staff from 11pm to 7am.
With this service you can sleep peacefully knowing that you have people capable of resolving any incidents while you rest.
We attend all your phone calls
A 100% tailored service built for attend all your phone calls from an exclusive helpdesk. A professional team will take care of all your income calls and attend the guests following a protocol designed by and for you. Roomcall allows you to save time and to optimize your valuable resources.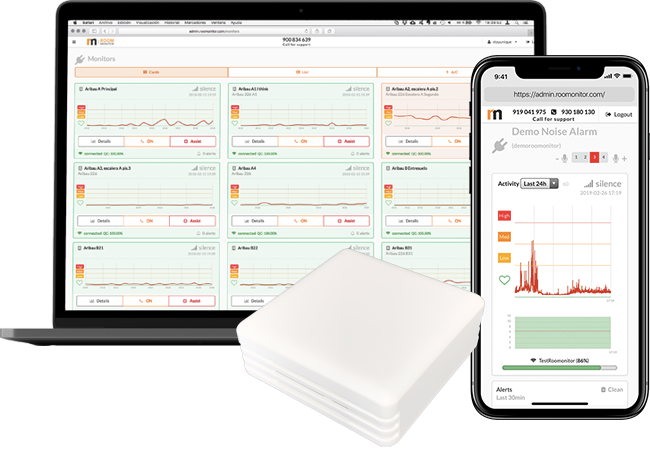 With Roomonitor,
sleep and let sleep.
"Roomonitor is essential for those of us who want Vacation Rentals to have a positive impact on the city. It is a commitment to truly sustainable tourism."
"In Roomonitor we've found a perfect partner to provide our owners with a service according to the level of their apartments. A fundamental element for us in our activity."
"We have been with Roomintor almost since its inception and the benefits have been many, more and more aware customers that don't need to bother to enjoy, neighbours grateful for the measures taken for a good coexistence and the tranquility of managers to know they're in good hands."
"Roomonitor and his team know what they're talking about when it comes to short-term rentals and their problems. Its Noisealarm system allows us to manage in a professional and fast way the incidents of noise in the apartments, gives tranquility to our clients and neighbours and favors our image as a responsible company and committed to the good coexistence in the city. In addition, his friendly staff has always given us such professional and exquisite treatment."
"Thanks to Roomonitor we have improved our coexistence with our neighbours. We've never had complaints about noise again, now we have happy travelers and neighbours. Roomonitor allows us to make responsible use of our air conditioning equipment reducing consumption thus contributing to the improvement of the environment."
"Thanks to the Roomonitor Noise Alarm´s, we´ve managed to greatly improve the coexistence between our tenants and apartment residents. With its great team of professionals, Roomonitor guarantees a good functioning of the devices and agile resolution of technical failures."
"The monitors has help us to prevent issues with guests that sometimes forget there are rules in the apartments and that these places should be respected the same way as their own home: Extremely loud talking, Loud Music, etc…"
Don't be shy!
Ask us what you want, we are here to solve your questions