AVOID NEIGHBOUR COMPLAINTS
Special offer for Airbnb hosts:
+$8.50 / Monthly subscription
Original price for NoiseAlarm
+$11 / Monthly subscription
SPECIAL PRICE FOR CANADA
+C$ 11,50 / Monthly subscription
"Roomonitor is essential for those of us who want tourist apartments to have a positive impact on the city. It is a commitment to truly sustainable tourism."
Enrique Alcántara
CEO Stay U-nique
"In Roomonitor we've found a perfect partner to provide our owners with a service according to the level of their apartments. A fundamental element for us in our activity."
Ignacio García
CEO Youstylish
"Roomonitor and his team know what they're talking about when it comes to tourist apartments and their problems. Its Noisealarm system allows us to manage in a professional and fast way the incidents of noise in the floors, gives tranquility to our clients and neighbours and favors our image as a responsible company and committed to the good coexistence in the city. In addition, his friendly staff has always given us such professional and exquisite treatment."
Bonaventura Durall Aulet
Director DURLET
"Thanks to Roomonitor we have improved our coexistence with our neighbours. We've never had complaints about noise again, now we have happy travelers and neighbours. Roomonitor allows us to make responsible use of our air conditioning equipment reducing consumption thus contributing to the improvement of the environment ."
Marcos Bosch
CEO CLASSBEDROOM
"Thanks to the Roomonitor Noise Alarm´s, we´ve managed to greatly improve the coexistence between our tenants and apartment residents. With its great team of professionals, Roomonitor guarantees a good functioning of the devices and agile resolution of technical failures."
Pol Castellá
COO Renttop Apartments
"The monitors has help us to prevent issues with guests that sometimes forget there are rules in the apartments and that these places should be respected the same way as their own home: Extremely loud talking, Loud Music, etc…"
Esteban Gast
Managing Director City Stays Apart UK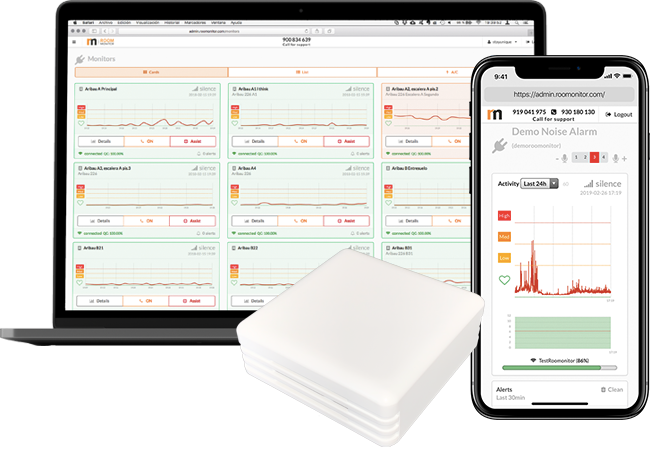 Roomonitor Noise Alarm is a device that allows you to be aware of the noise levels in your short term rentals all day, every day, thus avoiding any problems with neighbors or other tenants.
Improved coexistence among guests, neighbors and owners
Any noise violation could be a bother for your neighbours and a headache for you. With noisealarm you can monitor your property (s) in real time and proactively respond to any possible noise issue before it turns into a real threat.
Roomonitor measurement system uses algorithms to analyse the patterns of noise, in this way there is no need to record the audio in the apartment and the privacy of your guests will be totally safe. When a noise violation is detected your preassign number will be notify in real time with an SMS and a phone call.
The Noise Alarm monitoring service allows you to access in real time the information sent from the noise sensor through a panel accessible from any electronic device, so you can maintain control over what's happening in each accommodation, from wherever you are and with no need to download any application.
Improved coexistence among guests, neighbors and owners
Receive the Noise Alarm in your apartment and find a good wifi coverage place to plug it
Connect your Noise Alarm to the property's wifi
Login to Panel and check if the Noise Alarm is active
You are now ready to monitor in real time the sound pressure in your property !
Carefully designed to fit in all places
No light shining when it is connected
No battery is needed. You only need a wall socket
Easy to install (plug&play)
| | |
| --- | --- |
| Weight | 0.250 kg |
| Dimensions | 0.7 × 0.7 × 0.25 cm |
| Plug type | EU plug, UK plug, US plug, AU plug |
| Voltage | 15v |
Noise Alarm Sensor
Power Adaptor
Flicker Red: WIFI problems.
Flicker Blue and fixed red: It is ready to configure.
Flicker Blue and alternative red: Connecting